Write a business plan
A written business plan is essential to help you start and grow your business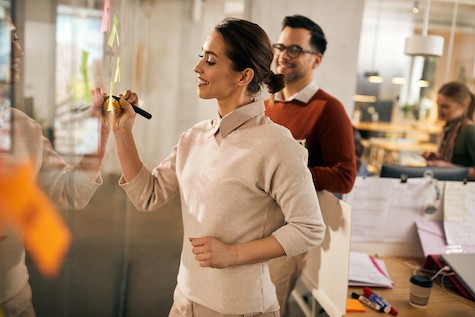 Benefits of a business plan
Your business plan outlines:
your vision for the business
the actions that will help you achieve it
When you are starting out, your business plan can help you to secure financing and investment. But your business plan does more than tell others what your plans are. A good business plan can help you test the feasibility of your new business idea, set operational and financial objectives, and make sure your business is manageable and effective.
You will need to revisit your business plan regularly as your business evolves and the business environment changes. These changes could include increased competition, advances in technology or the expectations of your customers.
What to include in your business plan
A clearly written business plan should include:
the vision and direction of your business – where are you now and where do you want to be?
a SWOT (strengths, weaknesses, opportunities, threats) analysis – a good business plan won't only identify ways to make your business idea work, it can also help you identify reasons why your idea might not work so you can address them before you invest time and money
a force field analysis – for each issue identified in your SWOT analysis, identify the positives and negatives of each issue and the actions you will take to address the issue
Write your business plan
Whether your business is just starting out, you're looking to sustain or you're looking to grow, our guide to writing a business plan can help you clarify your goals, figure out your barriers and come up with a plan of action.
Create your one-page action plan
A one-page action plan is an overview of the current situation, where you want to be and what you need to do to get there. It's also a practical way to record the outcomes of the planning process.
A one-page action plan has the following elements:
'Now' analysis – Summarise your current situation and issues in 4 or 5 points.
'Where' analysis – What is your vision? What is your competitive advantage? What are your key objectives?
Strategies – What are the 3 or 4 key strategies you need to work on over the next 12 months? You can draw these from the SWOT analysis in your business plan.
Action plans – List about 3 or 4 of the most important actions to complete to help achieve your strategies. You can draw these from the analysis of your key issues and strategies in your business plan.
Timing – State when you aim to achieve the result and who is responsible for each task. These should be in priority order and are critical for accountability.
Get help in person
If you're a first time business owner then you might need help working out how to action some of the steps you want to take. This might mean talking to an accountant, other business owners, a mentor, business coach or joining an industry group or your local chamber of commerce.
There's plenty of support available in Victoria to help you upskill and put you on the right track:
Try one of our mentoring services or workshops.
Get free advice and speak to subject matter experts with the Small Business Bus.